How to create a Gift Cards
Nowadays, it's challenging to imagine any company that doesn't use Gift Cards to boost its sales. Almost every business offers its services and products, either by having its own gift cards or by employing outsourcing companies for these purposes. Gift cards are used not only on a regular basis to gift loved ones on birthdays or other personal anniversaries, but also actively during holidays, such as Christmas or New Year celebrations. In Bookla you can create gift cards quickly and easily.
Gift cards from Bookla not only exist in a digital format, but also have a symbolic real-world representation. Initially, for the giver, they serve as an enjoyable platform where they can select their preferred image from the available choices. Additionally, customers can write a personal greeting addressed to the recipient of the gift card. The purchased and customer-created Gift Card will be sent to the buyer's email and will also be enable in the Bookla mobile app.
Now, let's move on to how we can provide this wonderful option to our customers — to purchase a Gift Card from your Company.
Let's create our first Gift Card!
How to Create a Gift Card:
Visit portal.bookla.com to create your first Gift Card, let's go to the "Gift Cards" section and choose the List of gift cards sub-directory.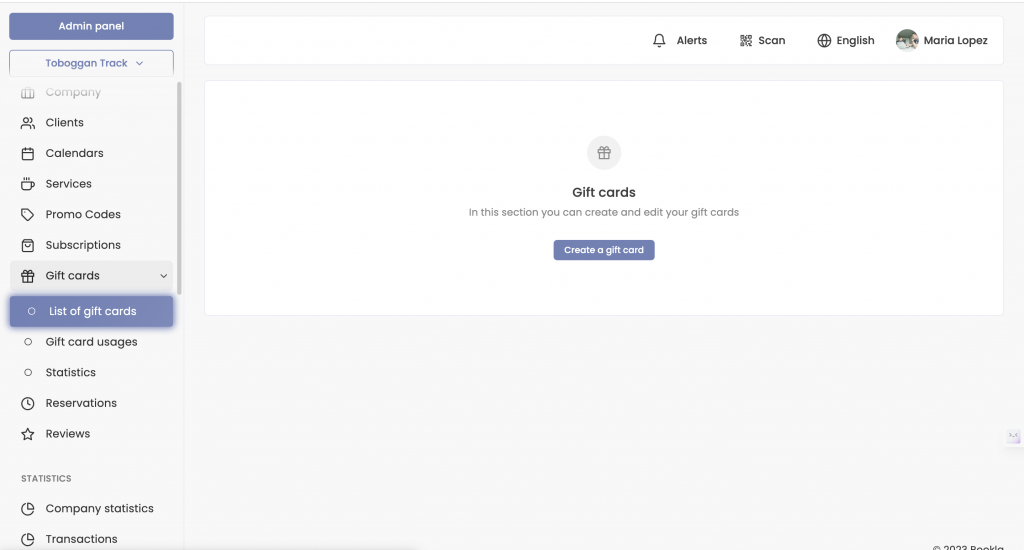 Click on "Create a gift card".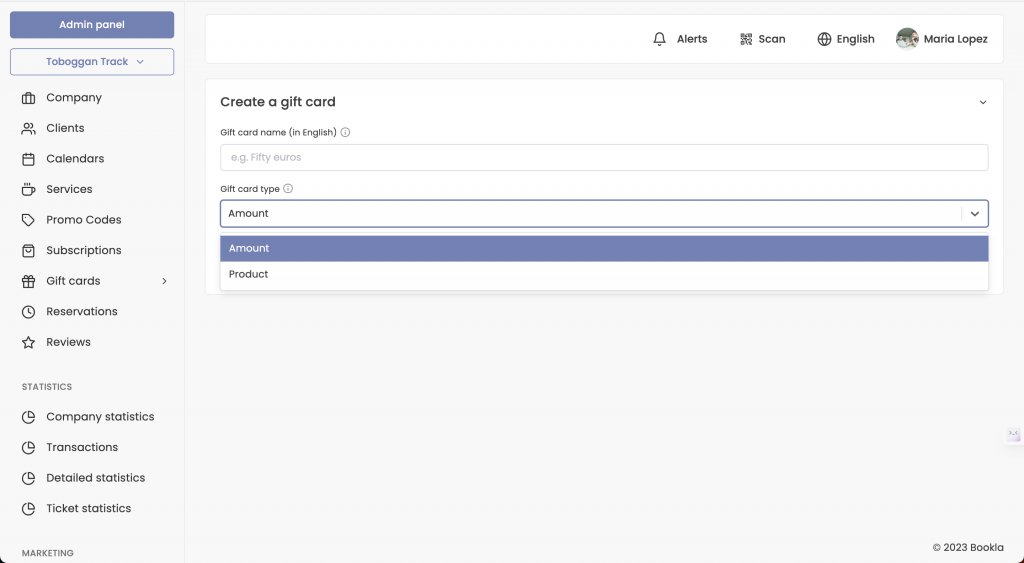 3. On this step you can select the purpose of the gift card.
In Bookla, there are two possible types of gift cards:
For the amount, for simple reservations or ticket purchases.
For the purchase of a specific product, for example, a Subscription.
Let's first consider the more common and flexible option, the gift card for an amount.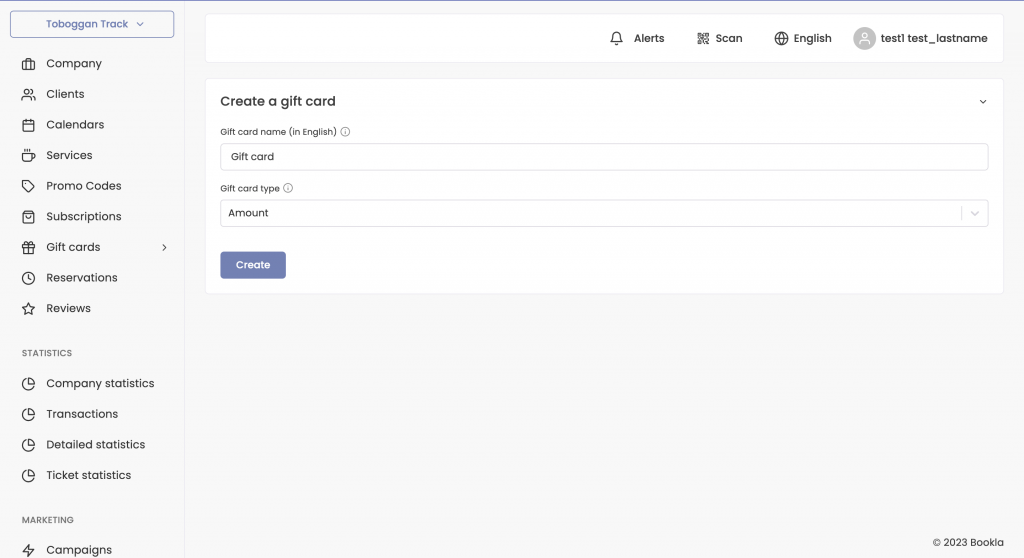 4. Click the "Create" button.
5. Enter information about the gift card, including the amount, price, VAT, and validity period. Then click "Save Changes."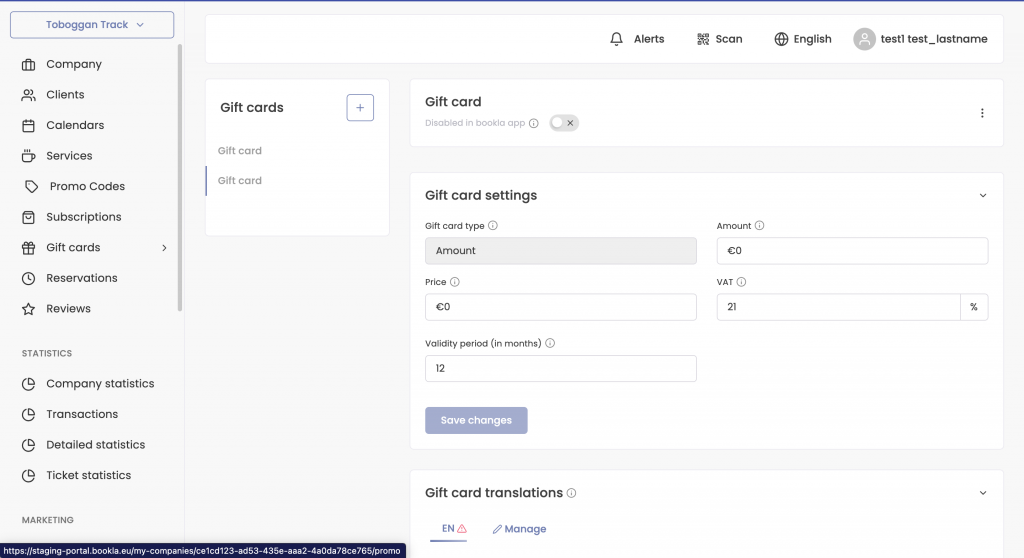 6. Scroll down to where you can enter translations for the gift card, including the name and description, and click "Save Changes."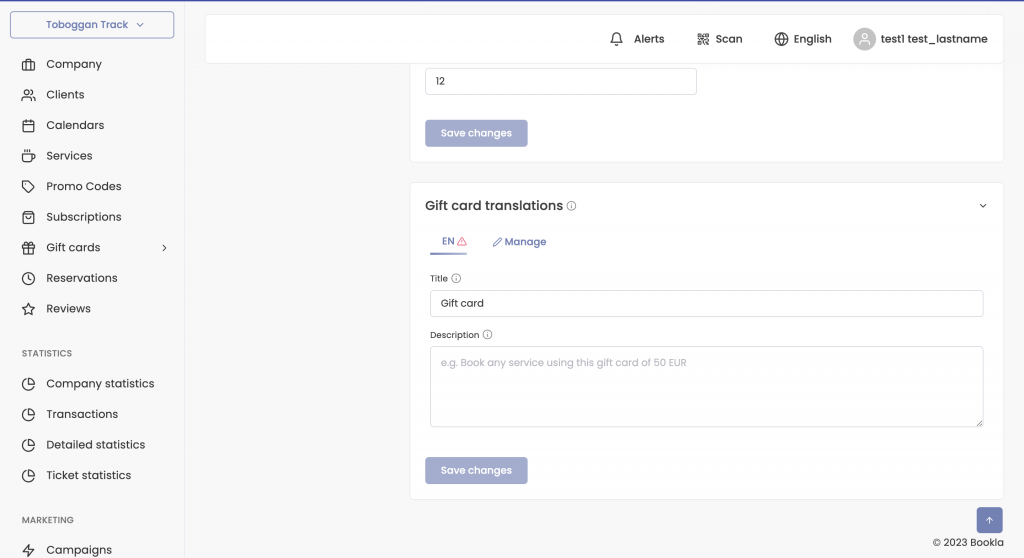 The gift card for the amount has been created!
Now let's create a Gift Card for a specific product (Subscription).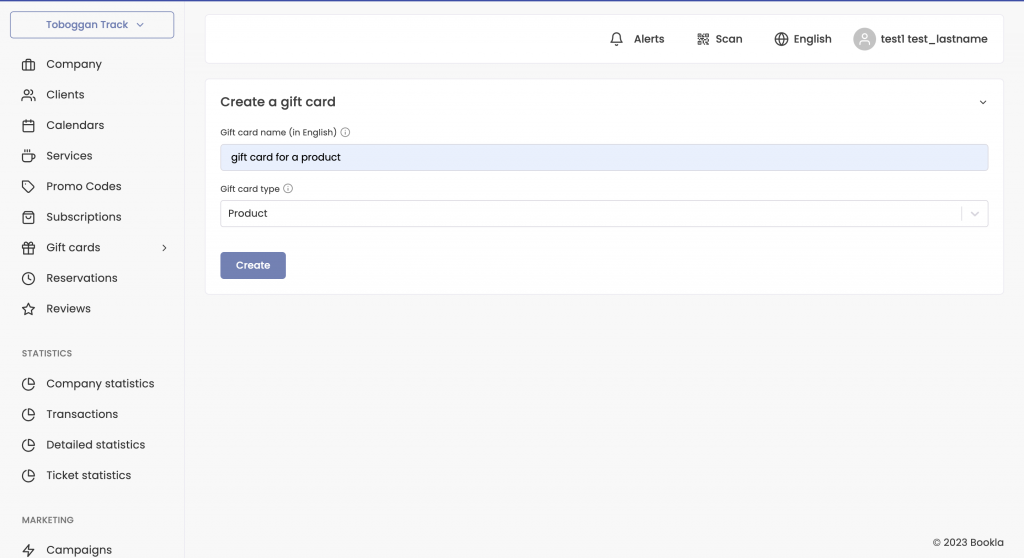 6. Press the 'Create' button."
7. Enter the details for the gift card, including the product you wish to add to this gift card, the price, VAT (if applicable to your product), and the expiration date. Then, press 'Save changes'.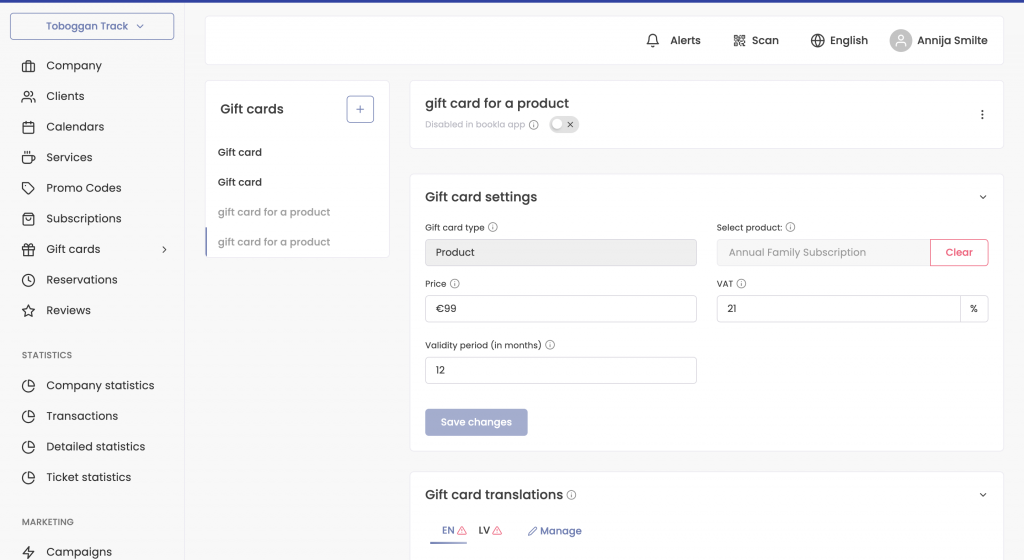 The gift card for your product has been created!
8. To add translations for both types of gift cards, scroll down where you can enter the translations, names, and descriptions of the gift cards, then press 'Save changes'.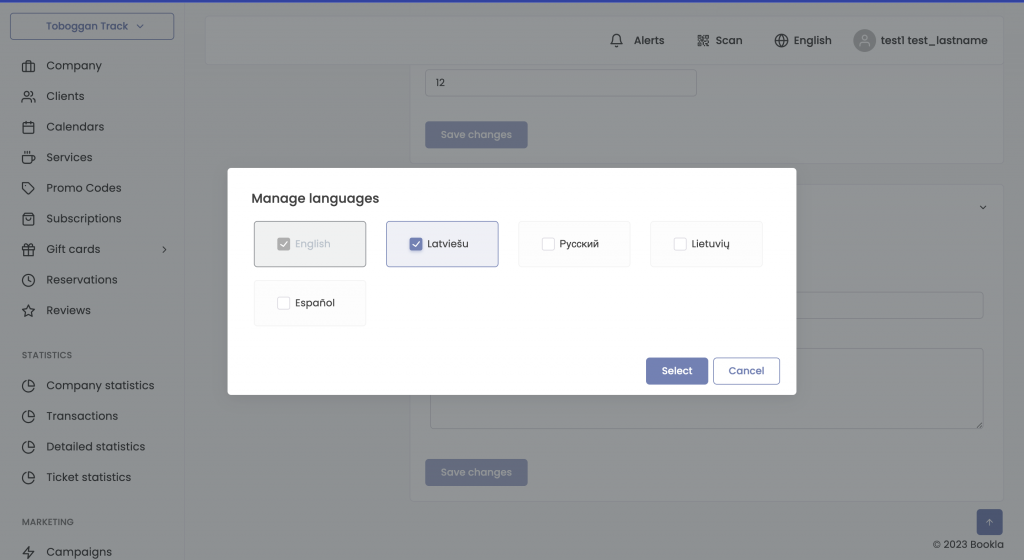 9. Enter the name and description in the selected language/languages and click "Save Changes."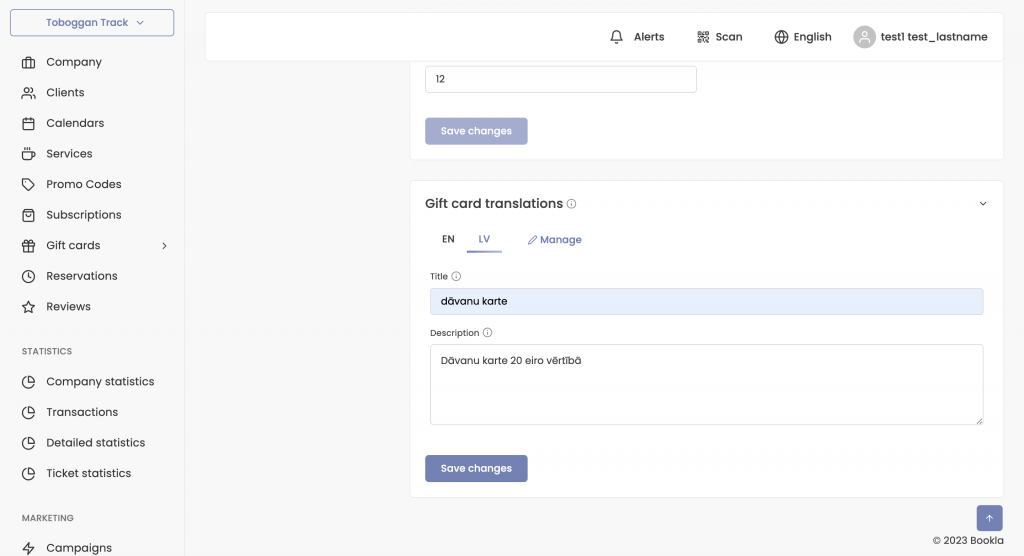 10. To activate the gift card, scroll up and click the button.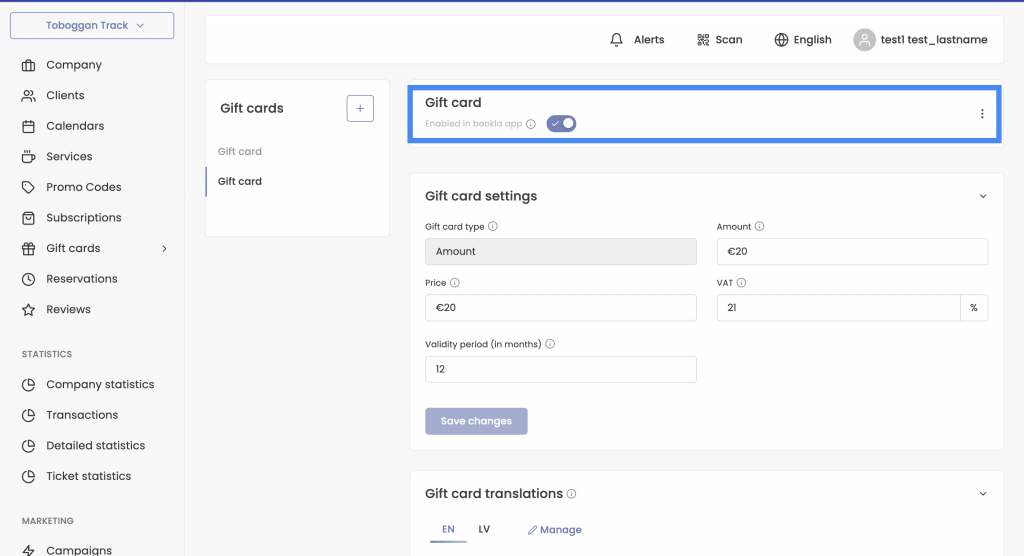 That's it! The gift card has been created, and customers can now purchase it.
Note that if you want to allow the customer to cover the entire cost of a product, such as a Subscription (here, we'll consider an Annual Family Subscription), using a gift card, the amount on the Gift Card should be the same or greater than the cost of the product associated with that Gift Card. If you want to create such a Gift Card, keep in mind that in such a case, only one product can be associated with that Gift Card. The customer won't be able to purchase other products or reservations within the framework of this gift card.
By doing so, you will provide your customers with the opportunity to purchase gift cards, strengthen loyalty, and thereby increase your revenue.

Using gift cards with Bookla is convenient and enjoyable.
Your customers will surely appreciate this opportunity!